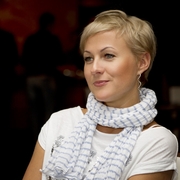 Karolina
Regional marketer
Balance and passion
I'm Karolina and I am responsible for marketing in North East Europe since 8 years. During this period of time, I have been witnessing many changes occurring in Thermaflex. What is now absolutely certain, is that the company constitutes a reliable business partner and takes care of environment we live in. The emphasis on nature has become an integral part of the organization.
My position in Thermaflex enabled me to spread my wings and develop myself. However, not only those aspects are significant, since we compose a team, which inspires, supports and approaches jobs with full responsibility. Our work is based on a partnership model, regardless of the position.
I'm not a person who prefers the easiest way and I always rise to challenges. If the bar is set higher, we want it even more. And here, in Thermaflex, there is a place for me.I started with simple things and when I look back I can remember how proud I was when I managed to deal with those small issues – small, but how crucial for me!
My hobby is yoga, thanks to which I find a balance between my career and personal life. Yoga suppresses this side of my personality, which is constantly unsatisfied and wants something new.
I am a mother of teenage Alicja and a blissfully happy wife. Together with my family, we are a fantastic trio and we complement and learn from each other.